07/01/2019 Founders Day
We're producing a full hour on a remote part of NYS celebrating the 150th anniversary of its founders' company, Fleischmanns, in Fleischmanns, New York. Located in Delaware County in the Western Catskills, the town is enjoying a renaissance of sorts by virtue of its cultural heritage, history, landscape, historical sites and architecture and by the many individuals of note who have lived there, visited there or simply traveled through. It's the town made famous by its most famous individual and his family over 100 years ago.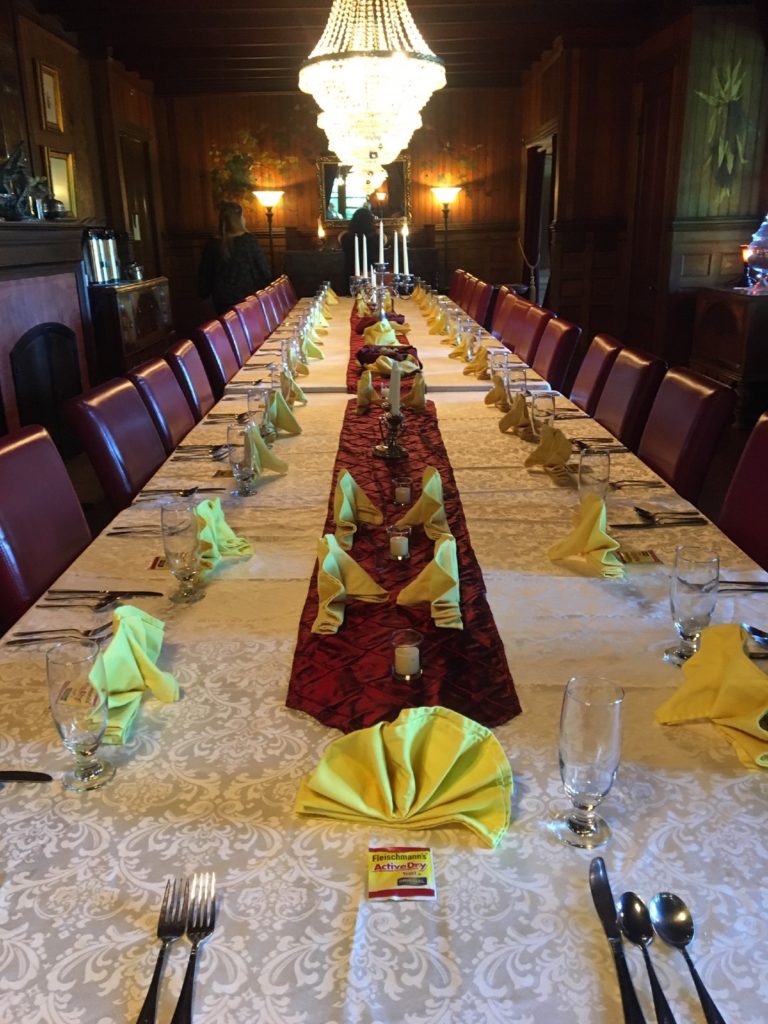 Spillian dining table set for celebration of the 150th Anniversary of the Fleischmanns Company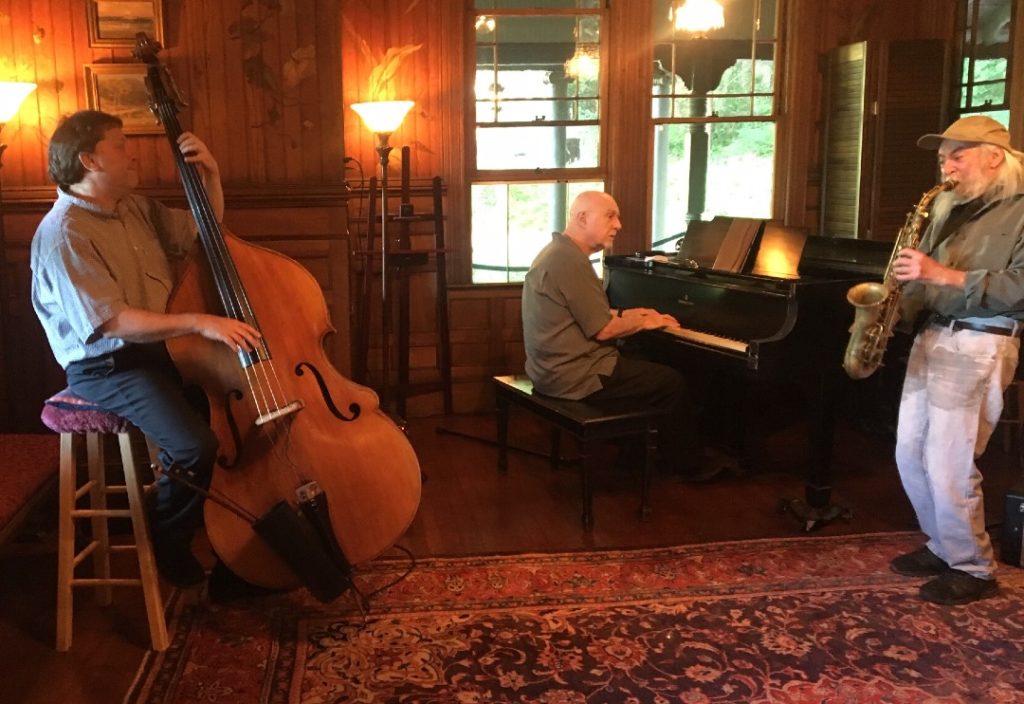 Music after dinner at Spillian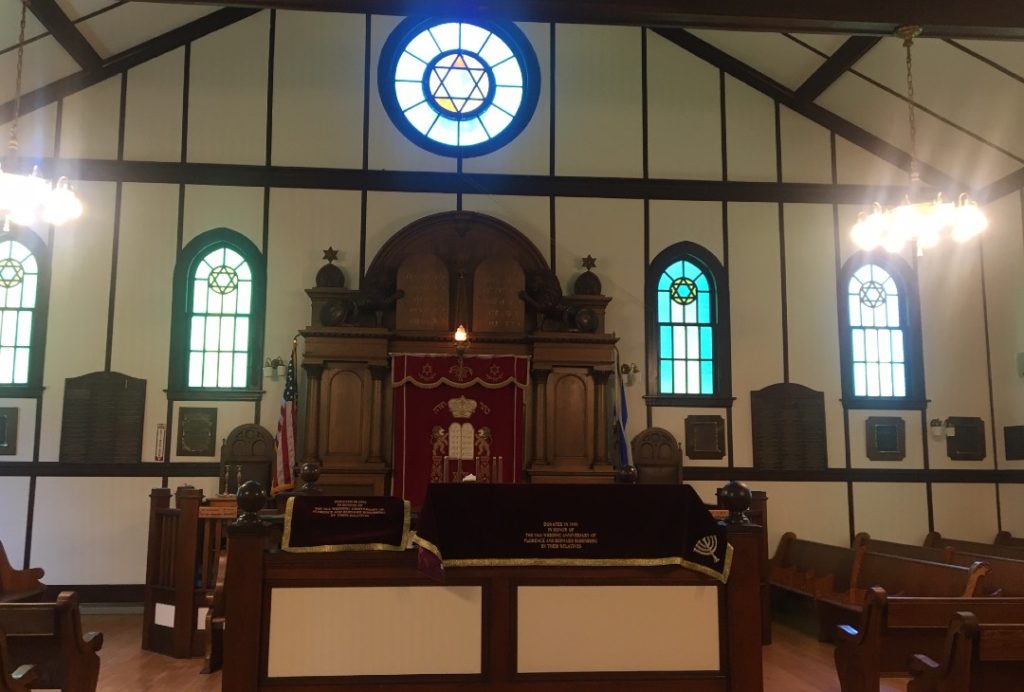 Interior of  B'nai Israel Congregation Synagogue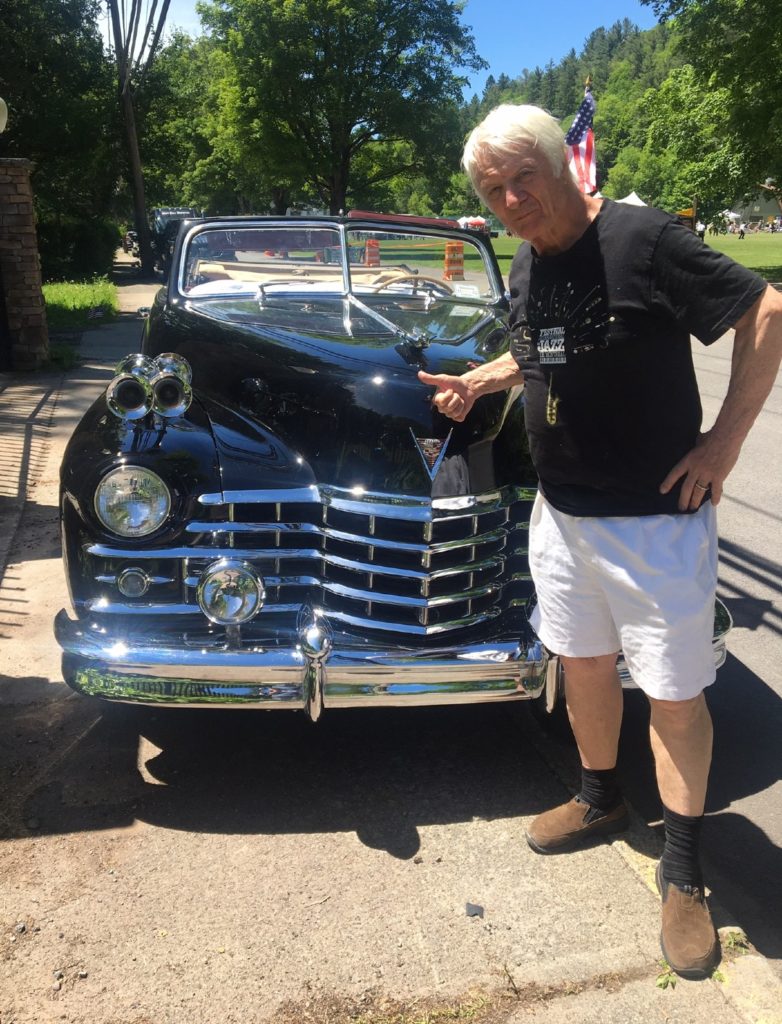 Michael & 1943 Cadillac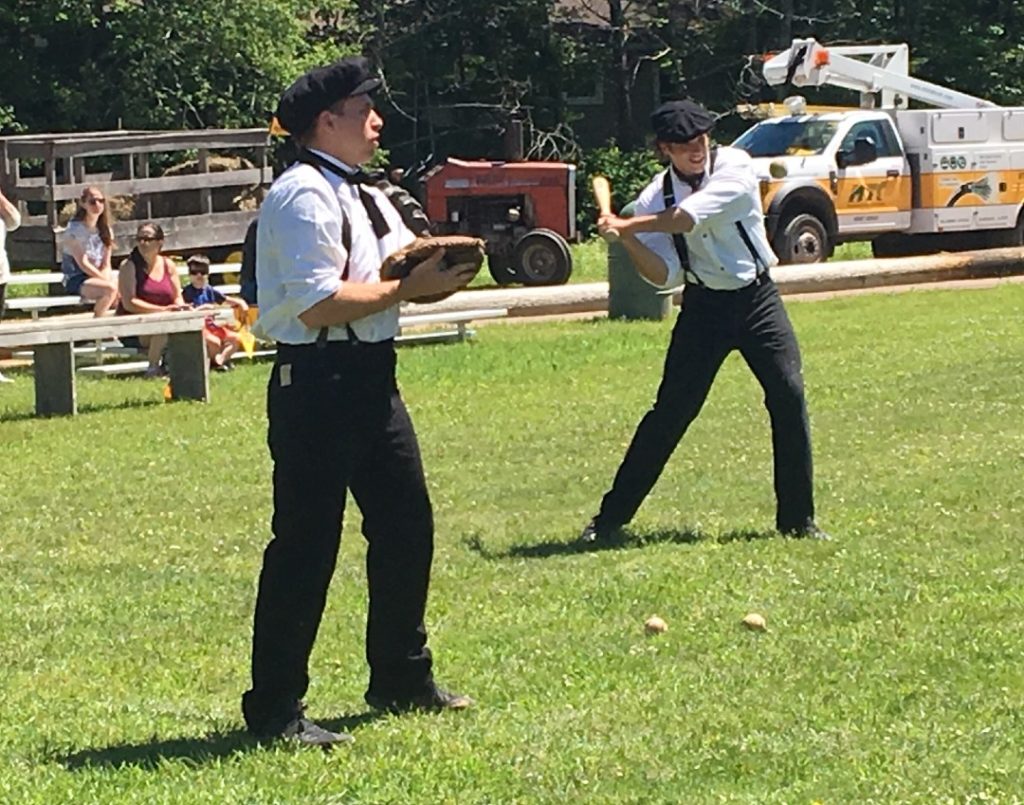 Baseball game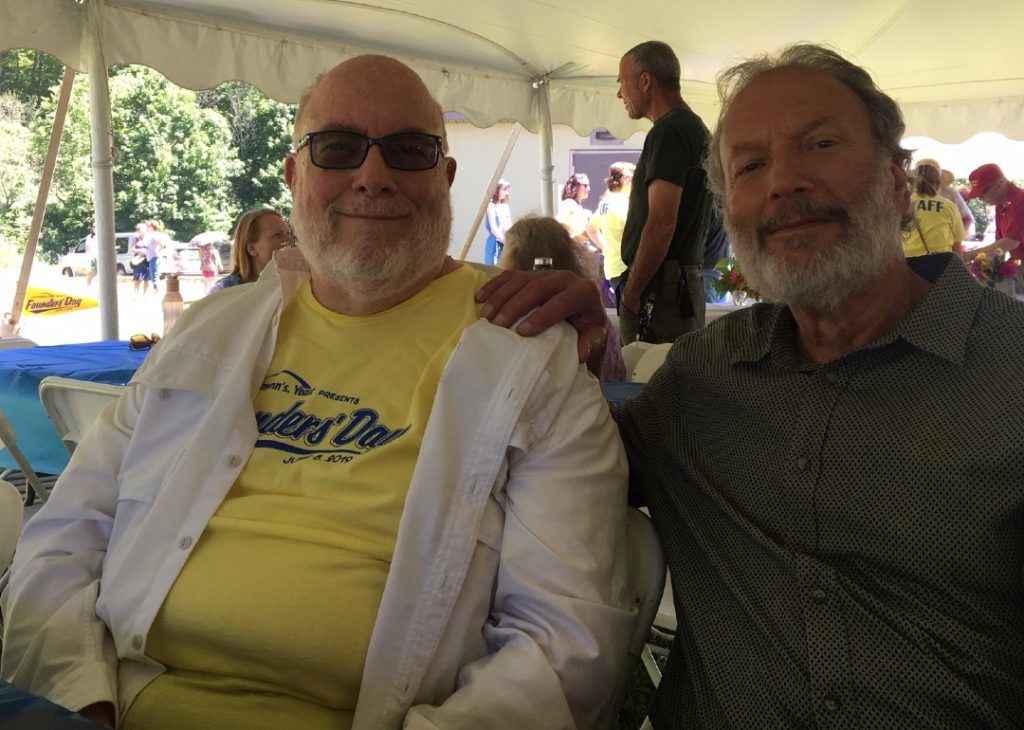 Left to right: Fred Woller, Mayor, Fleischmanns NYand Larry Riley, Deputy Mayor, Fleischmanns, NY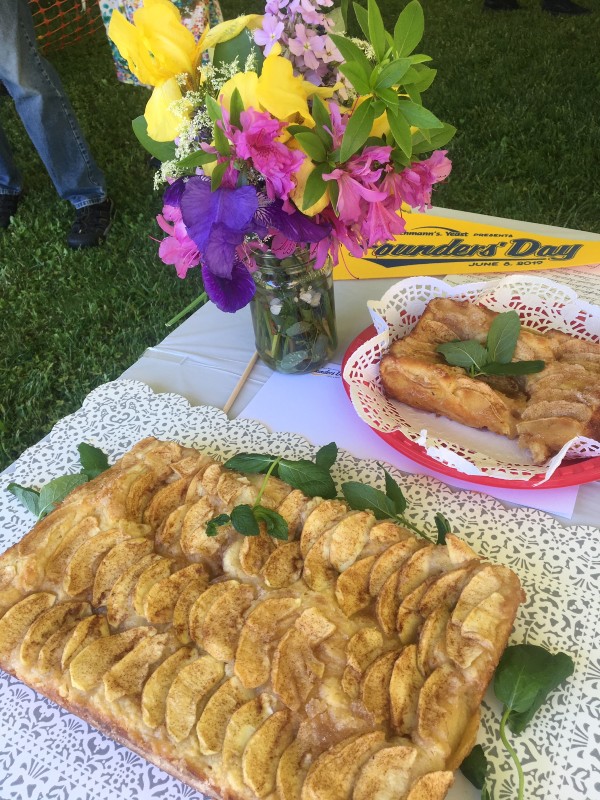 Pie contest 
Founders Day, June.7-9, Fleischmanns, New York
Fleischmanns, New York celebrated the 150 anniversary of the Fleischmanns Company, the town's founders, June 7-9. It was a grand affair! The Fleischmanns family, stemming from a burgeoning Jewish merchant class from Budapest, Hungary and Vienna, Austria, settled in this region in Delaware, County, in 1878, with seven members of their family. The village was then called Griffins Corners. In 1913 the town's name was changed to Fleischmanns.
Charles Fleischmanns founded the Fleischmanns brand of products in 1903 becoming one of the industry's largest and most successful companies headquartered in Cincinnati, Ohio. It also owned and operated a prosperous storefront and restaurant on Lower Broadway in 1910 where the Rich & Famous often dined. Today the company's banner is under the AB Mauriu N.A. flagship. however.
Charles Fleischmann went on to create a series of townhouses and mansions in Fleischmanns along with his own railroad depot and rail center ( Delaware & Ulster RR ) which rested nearest to their last remaining homestead, the Spillian, a sprawling Victorian estate on 130 acres, nearest the town's center. The Spillian, is now a 30 acre retreat and a popular B&B. Fully restored to its original grandeur it includes a full-service restaurant and bar room. It was here that the 150th celebratory dinner was held on June 8 over a 5-course turn-of-the century dinner with a band of professional musicians performing popular tunes of the day. More than 50 of the area's leading figures attended. The 3-day weekend included a presentation on Friday night, the 7th, by a troupe of historians, trustees, and innkeepers from the area on the Spillian grounds. And on Saturday, June 8, the Wagner Playground named after Baseball Hall-of Famer Honus Wagner, who often played here, sported a 1898 baseball game over 9 innings mit original uniforms from the past century and with members from the Mountain Athletic Club taking the field. A bake-off featuring some of the most delicious pies, cakes, bread and rolls all using Fleischmanns yeast, a given, and a panoply of vendors selling authentic Mexican, Phillipino, Ecuadorian, Italian, Chinese and Italian food specialties were highlighted. The weather, to add, was a balmy 80' with sunshine and warm breezes throughout.
Fleischmanns is rebounding from its hey-day in the 20s and 30s when it became a center for entertaining and restful stays. It had some of the most picturesque inns, hotels and residences for the hoy-pilloi. Names like Lehman ( Herbert, Gov. of NYS ),
Seidi ( Anton, Conductor, Metropolitan Opera, NYC ), Marlow ( Julia, Shakespearian stage actress ), Galli-Gurci ( soprano, Metropolitan Opera ), Berg ( Gertrude, television stage actress ) are some of the notables who visited. Real Estate is booming again as is the entire region. Famous towns like Woodstock, celebrating its 50th Rock 'n' Roll anniversary this year; Phoenicia, Big Indian, Margartville, Pine Hill and Mt.Tremper are all near by. In brief, you can find festivals of every type and style here from April-thru- October. And Fleischmanns Museum of Memories is a real find. Note, Andrew Carnegie, America's most adventuresome immigrant billionaire started it off with a $5000 investment in 1901 to his good friend, Dr. Alexander Skene of the Skene Memorial Library. we're told . The town's synogogue, Congegation Bnai Israel is a national landmark as is the A. Galli-Gurci Estate, the Maxbit Theare and the Skene Memorial Library. The synagogue reputed to be the oldest in the Catskill region, started in 1918 when the town first opened its doors to the Jews from Eastern Europe. Today, its services are celebrated in the Modern Conservative tradition. Fleischmanns, of course, is known for its sporting temperament. Fly fishing, trout angling, canoeing, hiking, swimming and winter skiing are popular here. The county's biggest ski resort complex, Bellayre Ski Center, started in 1950 by NYS is next door.. And Winter in the county is a picture post-card while Fall is remarkable for its kaleidoscope of colors and Spring-Summer brings beautiful flowers with so many things to see and do. It's less than four hours by Shortline Bus from NYC, three by car, and two-and-one half by North Central RR to Rhinecliff Manor, then forty minutes more by bus.
For more on Fleischmanns try the Delawarw Couny CVB. The Catskill Mountain Region Guide offers a lot to choose from and the I Love NY office in NYC can give you information as well. www.ILoveNY.org