March 2019 Wines of France
The March showcase is titled:
WINES of FRANCE
, aft of our journey last October where we covered the major wine producing regions of France over a 12 day period. To note, France was the second leading producer in the world in 2018 with 1,225 million gallons, or 16% of the world's total output on 787
mill
. hectares ( 2.4 acres ), only one percentage point behind Italy with 17%. The average French wine consumer, however, recorded 18 gallons per in 2018, would you believe?
. Julie Wehrle,Sls & Mktg.,C & Y ZEYSSOLFF/Vins fins et Cremants d'Alsace, Alsace ( Strasbourg),Fr
. Stephanie Erieau, Export Mgr., LES DOMAINES AURIOL, Lezignan Corbieres ( Lanuedoc ),Fr.
. Pascal Gendre, Sls. & Mktg., REMANILIA WINE, La Celle, Fr.
. Cedric Oll Laux, Export Mgr., THREE VINEYARDS, Provence, Fr.
. Jean-Yves Corre, Export Mgr., LE NEZ PROVENCE WINES, Provence, Fr.
. Thibaut Rotier, District Sls. Mgr., DOMAINE DE JOY, Panjas ( Gascony ) Fr.
. Simon Passot, Sls. & Mktg., MAISON PASSOT/ PASSOT SAS REMY & FILS, Chiroubles, Fr.
. Jeremie Giloux, Mgr.,Viticulture; DOMAINE du MAS des TINES, St.Amour Bellevue ( Macon ), Fr.
. Elisabeth Pion, Sls. & Mktg., GUY de FOREZ, Les Riceys ( Gascony ), Fr.
. Olivier Bernard, Pres., GRAND CRU CLASSE De GRAVES, Leognan, Fr.
. Bertrand Collignon, Pres. , DECOUVERTES, Tour & Travel, Rognes, Fr.; Bklyn, NY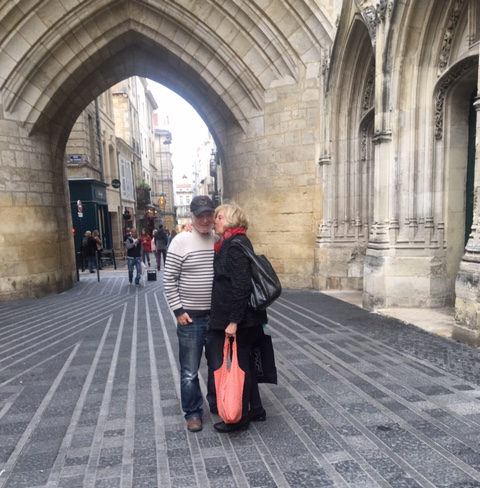 Susi & Michael in Bordeaux's Old City